Although many of our trips and tours are done with little planning ahead, there was one adventure that required advance planning – the well known four day trek along some of the original Inka Trail to Machu Picchu. The trail starts at km 82 in Ollantaytambo which is located in the Sacred Valley. Over the course of 4 days, we trekked through valleys, multiple ruins and over mountains for 43 kms! We endured cold temperatures at night, reached the height of Dead Woman's Pass (a staggering 4,750 meters!), and hiked up uneven stone steps that never ended. All of this to get to the final destination, Machu Picchu.
The experience was only enhanced by the awesome group of people we met at the briefing (11 total) that would partake in this journey with us. We were told that since we were a larger group, we would have two guides and 18 porters, totaling 20 people that made our trip possible.
We spent the next 4 days getting to know each other over this moderately difficult stone path trail. For most of the trail we trekked as one unit. Along the way we could see that other groups had been separated by time and distance due to their drastic difference in fitness levels. We were lucky that our group maintained a relatively steady pace and there was certainly no hurry. What was important was to enjoy the natural beauty of the trail.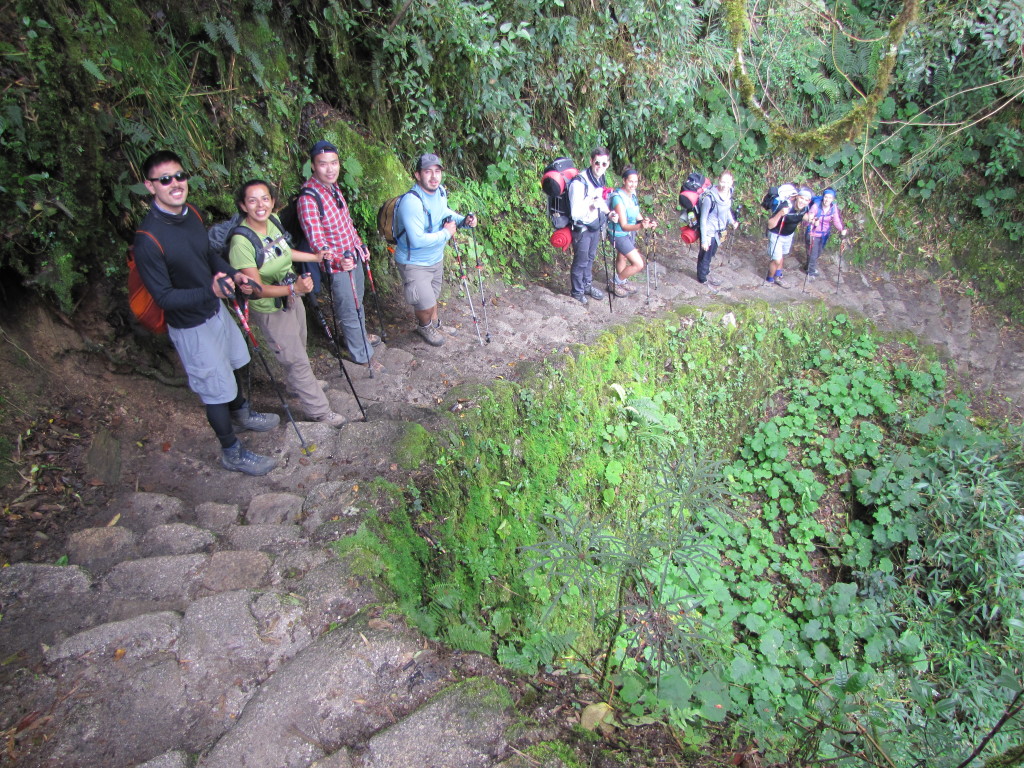 As I said before, the trek was made possible by our 2 guides Roger and Rosalio (Rosita) and 18 porters. If Roger and Rosita were the brains of the operation, the porters could be considered the braun. These men showed incredible strength by not only doing the trail as well, but with an added pack twice their size. They physically carried everything until we reached our destination. These things included tents, sleeping bags, mattresses, food, cookware, most of our personal belongings and, not to mention, their personal items as well!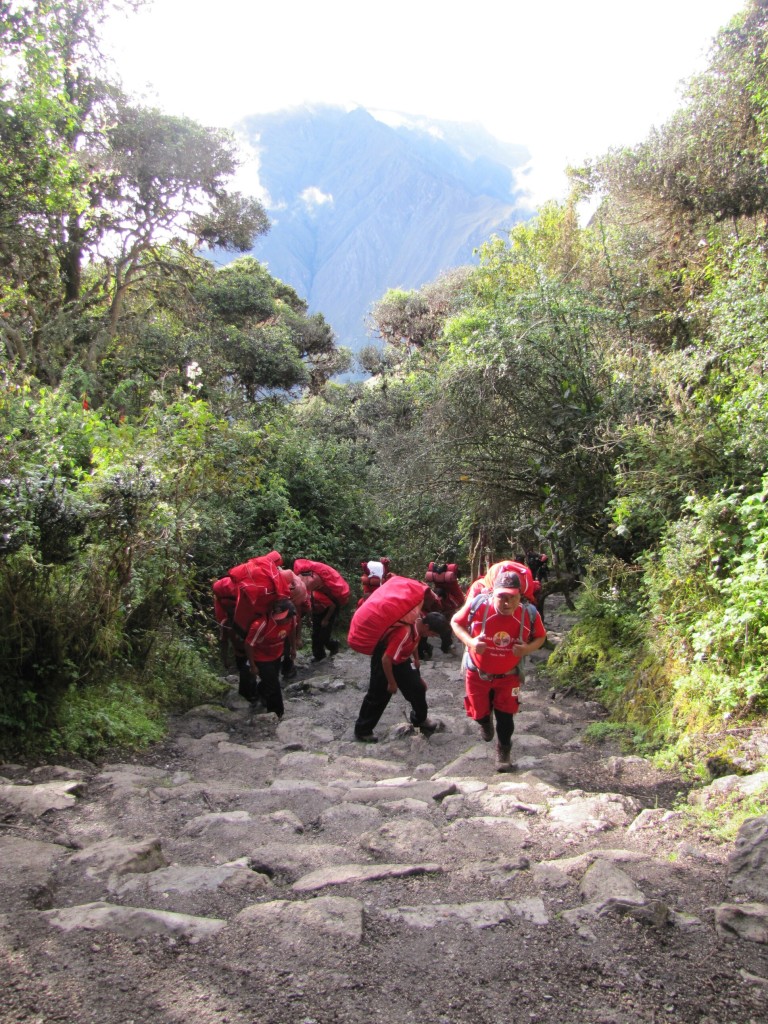 The porters literally ran ahead of us as if they were taking a casual jog and were able to get to lunch spots and campsites at least an hour ahead of us. When we would reach camp, there would be "happy hour" waiting for us. We were served coffee, coca tea, popcorn and my new love…Milo. It's a chocolate and malt powder combo (originally from Australia) that you mix with hot water. Roger was kind enough to give us his recipe of Milo, powdered milk and sugar! Mmm!! Lunch and dinner were nothing short of gourmet meals. We have never eaten so well on a camping trip before!
Along the trail we got to explore a number of different ruins, but ultimately when we arrived at Machu Picchu on the 4th day, it was exhilarating and made the tough trek worthwhile.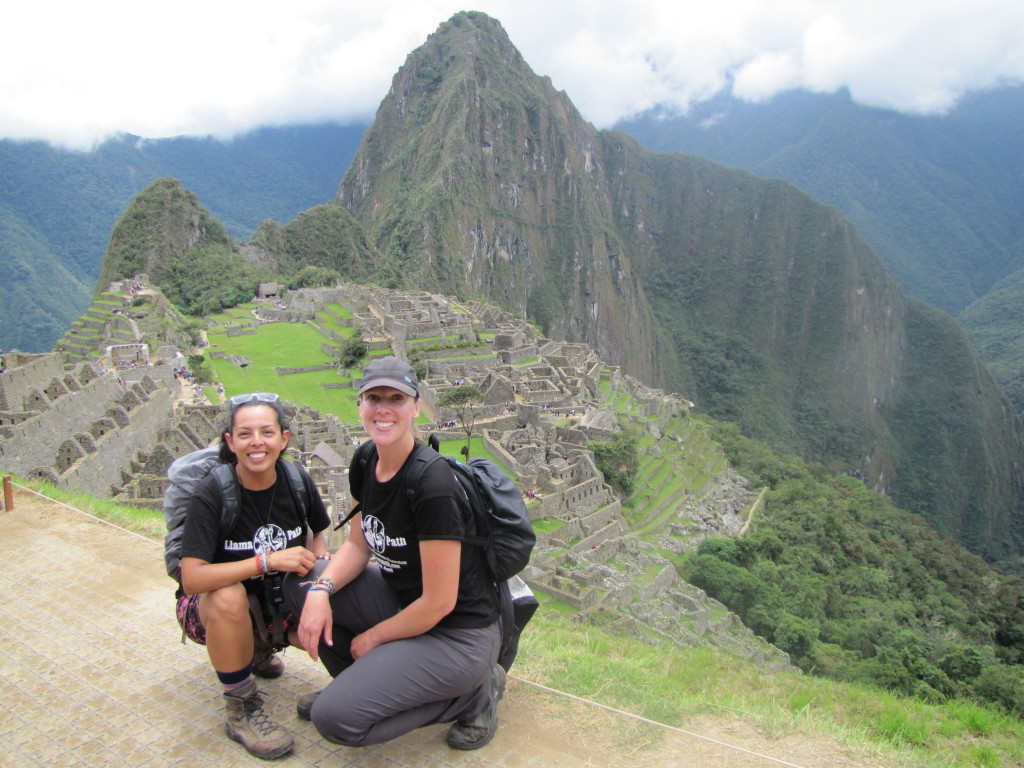 Thanks again to our new friends Katya, Gavin, Geetha, Nelson, Ken, Charles, Daming, Davide and Lisa for making our trip absolutely fabulous!! Also thanks to our guides Roger and Rosita and our awesome porters that made it all possible!
Check out the galleries below for all the pics! Scroll all the way to the bottom of this post for the video.
Day 1-2
Day 3-4